Urushi-cordovan Pen Case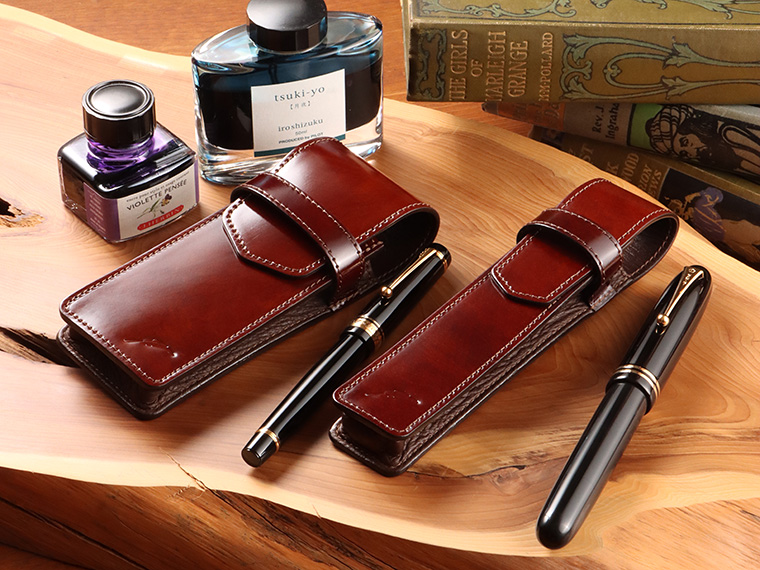 Urushi-cordovan Pen Case / Made in Japan
(Left: For 3 regular size pens, Right: For Namiki Emperor #50)
This product is our original pen case made of high-quality cordovan with Urushi (lacquer) coating.
Only genuine natural Urushi is used for the coating, and deerskin is lavishly used for the sides and linings. Deerskin is extremely supple yet tough, providing great tactile comfort while protecting your precious pens.
Cordovan is rare luxury leather with only a small amount of cordovan extracted from one horse, and its collagen fibers are aligned in a different direction from other leathers, giving it an extremely dense and smooth texture. For this reason, it is also called the king of leather, the jewel of leather, and the diamond of leather.
Only carefully selected natural genuine Urushi is used in the lacquering process applied to the cordovan, which has a beautiful surface even by itself. No synthetic lacquer is used. The fusion of these high-end materials results in a pen case with even greater beauty and durability.
This robust and beautiful material is a special-order item that is painstakingly lacquered sheet by sheet by hand by craftsmen in the Urushi workshops of Ishikawa Prefecture, the Urushi home, and is not generally distributed. Also, it is not something that has always existed. The passion of Mr. Mitsuhashi, founder of the leather goods brand PAIR SLOPE Co., Ltd. has created this material new in this world.
The practical application of Urushi on leather, which is normally supposed to be applied to hard objects, is something that would be considered impossible in an ordinary Urushi studio. However, Mr. Mitsuhashi's passionate desire moved Mr. Kihachi, the fifth-generation head of Kihachi Kobo, an Urushi workshop with a 140-year history. Through a miraculous collaboration between the two companies, research and development proceeded, and the Urushi-cordovan was finally realized. The strong enthusiasm of top-level craftsmen in their respective fields has resulted in the birth of a one-of-a-kind material.
And now, Mr. Mitsuhashi, who is also a wonderful user of fountain pens, has undertaken to create a product using this material in order to realize a special pen case for our shop, which is unique in the world. Each pen case is carefully crafted by skilled craftsmen nurtured by the founder, who has an extraordinary passion and a strict eye for quality.
Please copy the product name and paste it into the Order Sheet when ordering.
(Opens in a new tab)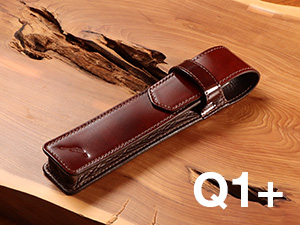 Urushi-cordovan Pen Case
for Namiki Emperor #50 [Q1+]
[item number: Q1+]
Dimensions: L180 x W36 x H35 (mm)
Weight: 32 g
Price: 45,000 JPY
Urushi-cordovan Pen Case for Namiki Emperor #50
[item number: Q1+] 45000 JPY -- Qty: 1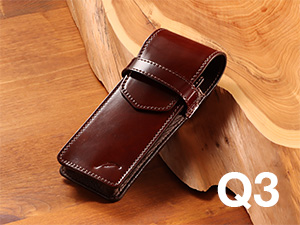 Urushi-cordovan Pen Case
for 3 regular size pens [Q3]
[item number: Q3]
Dimensions: L160 x W60 x H33 (mm)
Weight: 52 g
Price: 47,000 JPY
Urushi-cordovan Pen Case for 3 regular size pens
[item number: Q3] 47000 JPY -- Qty: 1
Details
Beautiful and durable surface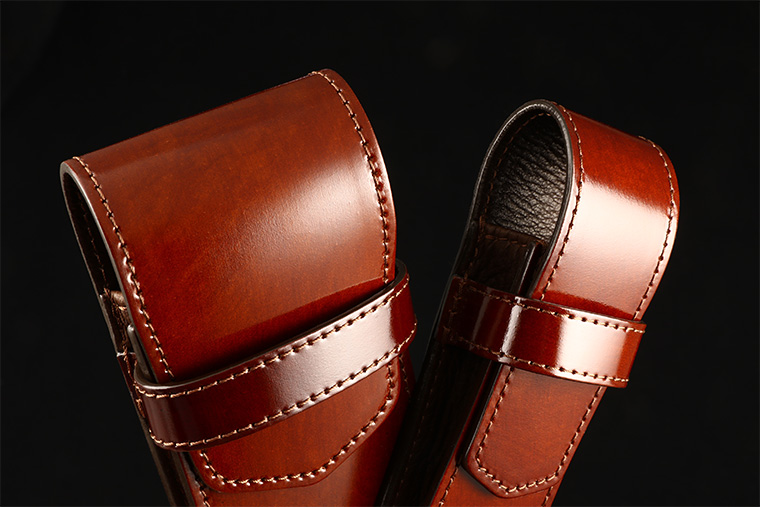 It has a high-quality appearance wrapped in amber-like transparency. A deep and complex brilliance is created by a combination of high-quality natural materials. It also shows various beautiful expressions depending on the viewing angle and light source. I think you will get a better sense of this when you look at the many photos that follow.
Cordovan is scratch-resistant but water-sensitive originally, but this Uruhsi coating compensates for this drawback. Urushi has been used for tableware since ancient times, and has a long history of protecting wooden utensils from water, salt, and scratches. Of course, exposure to water or ink for a long time is not a good idea, but you can easily preserve its beauty with normal treatment such as wiping it off soon. Durable, beautiful, and easy to care for. It is truly the desirable material for pen cases.
Deerskin used for the sides and lining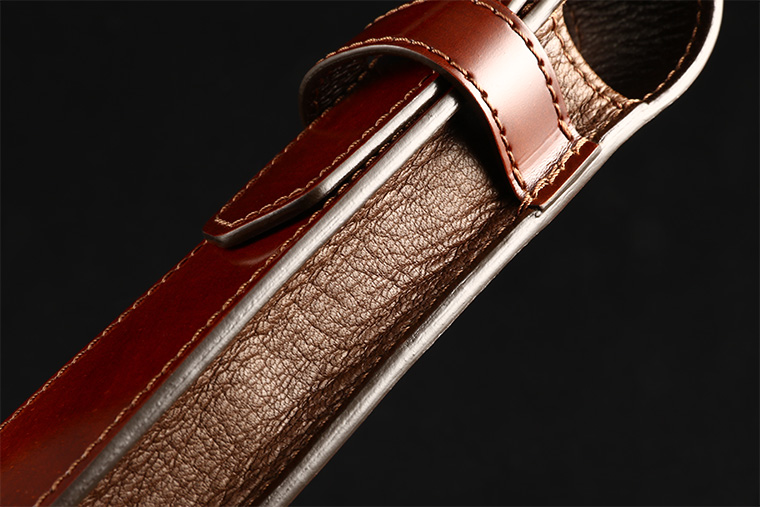 PAIR SLOPE specializes in leather goods for motorcycles among its various leather products. And these products have the important mission of protecting the rider's safety. In particular, gloves are required not only to be durable, but also to be flexible so as not to interfere with delicate operations while riding. In this respect, deerskin is an ideal material for rider's gloves because it is extremely supple, yet has higher tear strength and durability than cowhide. However, due to the small distribution volume, deerskin is a rare and expensive material. The reasons are the small size of the deer and the scars of many injuries (such parts cannot be used) due to the deer's active traits. Nevertheless, considering its durability, it can be said to be highly cost-effective as a result.
For pen cases, we think it is essential not only to be durable but also to protect the pens inside gently and to have a comfortable feel of use. We cannot imagine a pen rattling in a hard pen case that is only strong. For this reason, we wanted to use deerskin effectively.
During the development of this pen case, I was impressed by two things about deerskin. One is its amazing strength and the other is its comfortable touch.
As for strength, there was an episode like this: During a meeting with Mr. Mitsuhashi, he made a few centimeters cut from the edge of a deerskin sheet with scissors before handing it to me and he asked me to try to tear it by hand from the cut. I thought the deerskin would tear easily because it already had the cut. However, no matter how hard I tried, the deerskin didn't tear at all. I was so surprised by its toughness, which seemed to contradict the moist, soft, and supple felt in my hands.
Regarding the other point, the texture, I was moved again when I touched the prototype. The sides, and back of the lid, which you always touch when you put the pen in and take it out, give you a very comfortable feel. Of course, in terms of functionality, I was convinced that deerskin was the best choice in terms of the softness that is gentle on the pen and the moderate friction that envelops the pen. It is not a tight fit, but it has a grip that will not slip off even if it is not clipped.
A pen case is a tool for safely storing and carrying your favorite pens in the first place. We reaffirmed the wonderfulness of deerskin through the prototype and decided to use deerskin for the entire interior, including the side parts and pen partitions. As a result, it became a pen case that is kind for both the pen and the user.
Full deerskin lining and long length (80mm) deerskin partition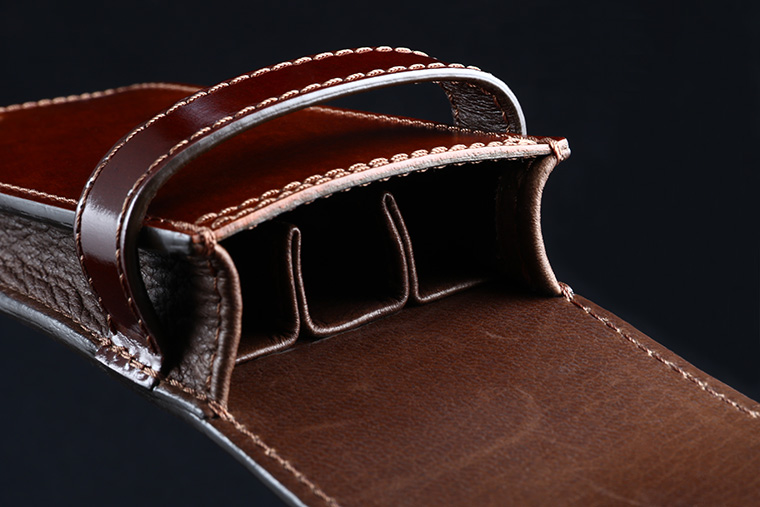 The interior is made entirely of deerskin, including pen dividers. In addition, thinly processed cordovan is used for the core material of the partition. We often see products that use cardboard as the core material, but in such cases, if the core material is bent and creased even once, that part will never return to its original state and will become the part that is easy to fold. Although it is not visible from the outside, this pen case uses cordovan as the core material, so you can use it for a long time with peace of mind in terms of strength and durability.
Also, the length of the partition is 80mm. We made it very long to prevent pens from clattering with each other at the lower. With this length, it is very safe. Moreover, this large contact area with the soft deerskin also helps prevent accidental drops of pens of various shapes. It is a part that cannot be seen from the outside, but we prioritized the safety of the pen over the manufacturing cost.
The joints between the side deerskin and the exterior cordovan are also well-finished. The seams near the opening are the parts where force is particularly likely to be applied, so it is double-stitched. The base of the cordovan band is also double-stitched for the same reason.
Double stitched and thin finished edge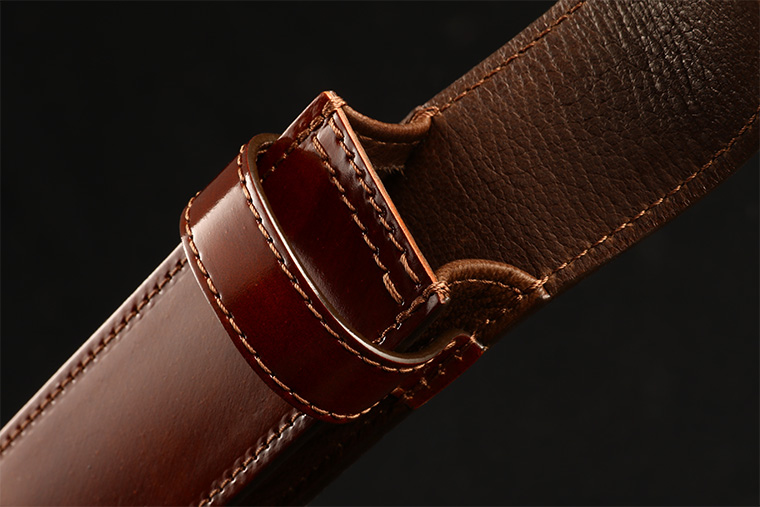 The edge of the pen slot is the part that is particularly subject to stress when using a clip. In addition, the ball-ended type clip, which is often used in Pilot pens, requires material strength to withstand the initial resistance when the clip bites. Cordovan is a firm material, but double stitching is applied near the edge to make sure. At the same time, the thickness of the edge is finished to be thin by shaving a little so that it can be clipped without stress as much as possible.
In addition, the edge finishing agent is colorless only for this part. This is done to maintain the beauty of the product over long-term use. There will inevitably be marks on the edge due to the repeated use of the clip, and if a dark-colored finishing agent is used, these marks will stand out due to the contrast with the color of the leather body.
These specifications were determined after over 1,000 times of tests of the pen in and out involving using the clip during product development. Of course, we used the Pilot pen with a ball-ended type clip for the tests. Because we thought it was the toughest.
Materials, and factory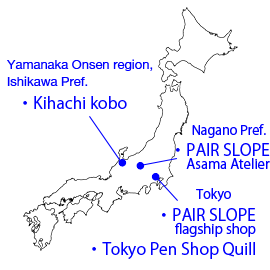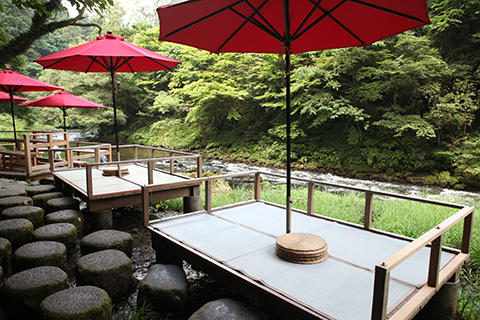 The high-quality cordovan that has undergone strict quality checks and careful selection at PAIR SLOPE is brought to the Kihachi-kobo in Ishikawa Prefecture, where it is processed with Urushi.
Kihachi-kobo is a famous Yamanaka lacquerware workshop that has been in business for over 140 years. Yamanaka lacquerware is a traditional lacquerware that has been produced in the Yamanaka Onsen area of Ishikawa Prefecture for about 400 years. It is characterized by a sophisticated and delicate technique that takes advantage of the beauty of the wood grain.
Mr. Kihachi, the 5th generation owner of Kihachi-kobo, entrusted the Urushi processing to Michiko-san, a veteran craftsperson.
Michiko, a skilled craftsperson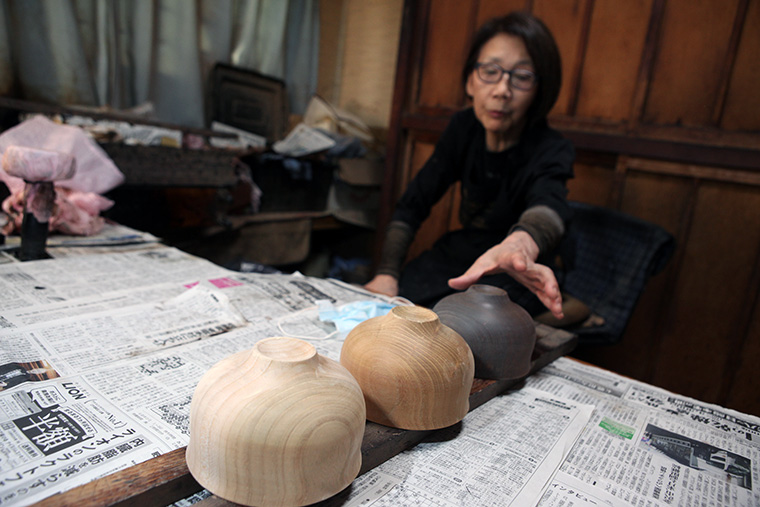 Michiko-san is a lacquerware craftsperson with a high reputation for the beauty of her bowl finishes in particular. Her works are so attractive, with the texture of the wood grain of the material enhanced by the Urushi.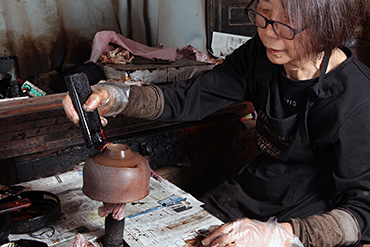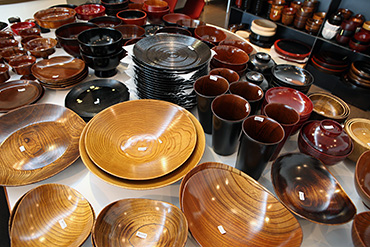 Her technique is perfectly applied to the Urushi cordovan of this pen case. By applying multiple layers of Urushi without masking up the original texture of cordovan leather, the cordovan transforms into an Urushi cordovan with an amber-like elegant shine while increasing its depth.
The five layers lacquering process takes 15 days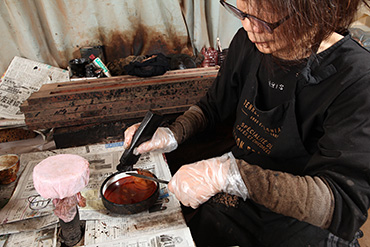 Those are shots of the actual lacquer process on the cordovan. The larger photo above shows the first coat of Urushi being applied to the cordovan. It takes a lot of perseverance and a certain amount of time to create a beautiful transparency like amber. From here, the process of applying five layers of Urushi begins, which takes about two weeks.
Repeat the process of applying and polishing layer by layer. It takes a lot of hard work because each layer needs to be polished with a lot of force.
After the process for one layer is completed, the cordovan is placed in a warm and moist space and left to rest for several days. This is repeated for every layer. Urushi has a slightly unusual property of it curing with moisture, not with drying, so it needs such an environment.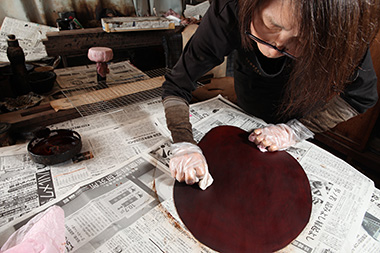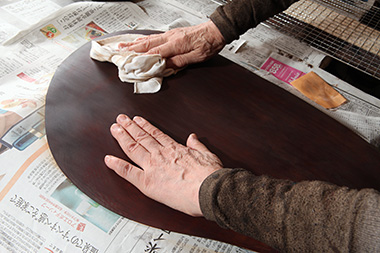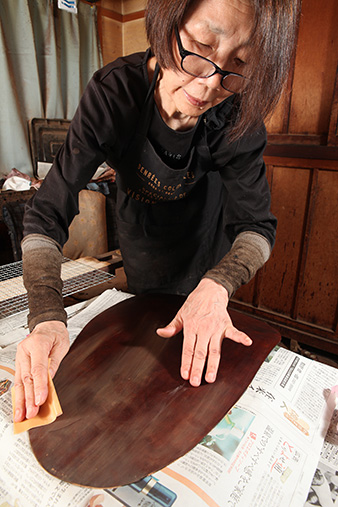 Polishing work is done meticulously using paper and cloth. Michiko-san works with her bare hands, but it seems that she can do this because she has been involved in lacquering for many years. If you are inexperienced, your hands will get a rash in no time. Mr. Mitsuhashi said that when he visited Michiko-san to shoot this process, he accidentally touched the paper and the newspaper in the workshop, and she immediately flew up to him and wiped his hands with paint thinner. She said that we need to be careful even with the things around the workpiece. Mr. Mitsuhashi says that just being in the workshop made his eyes tingle.
However, this is the case with raw Urushi, and the Urushi after curing is completely safe. That is why lacquerware has been used as tableware since ancient times. It is a material that requires an arduous process in production, but after completion, we can enjoy its beauty with safety and peace of mind. I am deeply grateful to Michiko-san for providing us with this great material through repeated steady work using reliable techniques backed by her experience.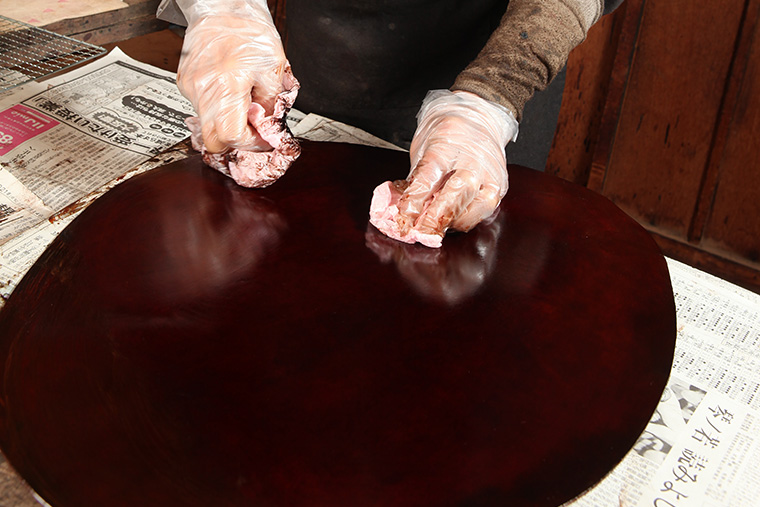 As the steady process is repeated, the cordovan gradually shines. In this photo, you can see the hand reflecting on its surface.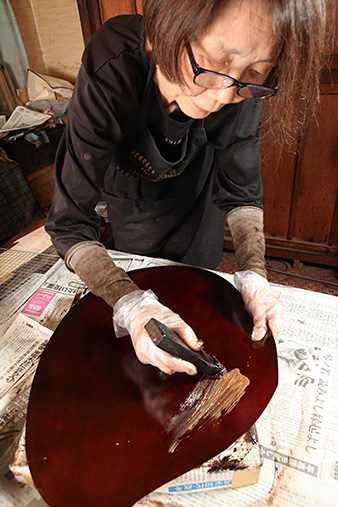 Still, this is not the end of the process. Urushi is applied over it again, and the same process is repeated. It is truly a process that requires patience and time.
As you can see from this series of photos, the size of the cordovan is so small, even in the original state before cutting. This is because it is a valuable part that exists only in limited parts of the horse's rump. And only two pieces of cordovan can be taken from one horse.
In addition, the area of a few centimeters from the outer circumference to the inward is not used for pen cases because the leather fibers are uneven. We only use the inner part of that area, which has genuine cordovan fiber. Therefore, the size that can be used for production is even smaller, and as a result, only three pen cases can be made from one piece of cordovan.
The question of how many products can be made from a single piece of leather is directly linked to cost. Even so, in proposing something that had never existed anywhere else in the world before, we strove for perfection without compromise.
Once the repeated Urushi coating work has been completed, the cordovan is left to rest in a space where maintained at the optimum temperature and humidity for another 10 days until it is in a stable condition. After that, it is finally shipped to PAIR SLOPE.
Leathercraft by Asama atelier of PAIR SLOPE Co., Ltd.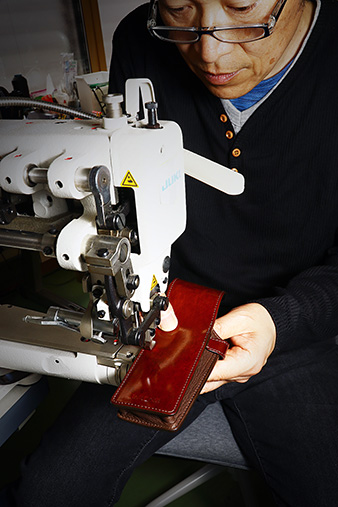 The shipped Urushi cordovan is transported to PAIR SLOPE's Asama atelier, where it is transformed into an even more beautiful pencil case. Asama atelier is located in Saku City, Nagano Prefecture, in a beautiful environment with a nearby ranch and views of Mt. Asama.
PAIR SLOPE operates two in-house workshops, and depending on the characteristics of the items, the most suitable workshop is in charge of its production. Each workshop is staffed with skilled craftspersons, whom Mr. Mitsuhashi has nurtured over the past 40 years, and the workshops compete with each other to produce the best products.
Among them, Asama atelier specializes in complicated items that require fine workmanship. It mainly manufactures wallets and bags and has specialized equipment for them.
The photo on the left shows the master of the Asama atelier, Mr. Sasaki, using a sewing machine. Mr. Sasaki is so strict in his craftsmanship that he is called "Sasaki the Demon of Asama atelier" at PAIR SLOPE's head office workshop, but the way he gazes at the work shows his abundant love for leather products. We are so happy to have this Urushi pen case made by such a wonderful craftsman like Mr. Sasaki.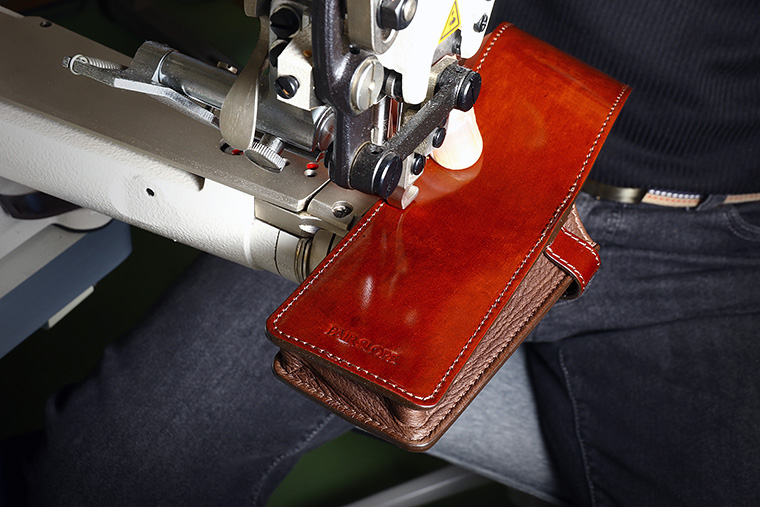 If you look closer, the details are like this. The sewing machine is designed to sew one stitch at a time while holding the immediate vicinity of the seam by a metal part.
And on the other side of the leather, on the back side, there is a metal part that serves as a support. The sewing process needs to be done accurately and carefully while holding the product by using these upper and lower metal parts so that it does not shift or slip.
Especially in the case of a pen case, special tools and techniques are required to sew along the very edge of the product accurately and beautifully with even a small radius. This sewing machine is specially designed for this type of work, with the presser metal parts mentioned above being made especially smaller and narrower than the usual sewing machine. This, combined with the skill of Mr. Sasaki, who specializes in intricated products such as wallets, has added the technology to achieve a very beautiful finish.
As you can see in the photo above, the back of the pen case has the PAIR SLOPE company logo. It is a sure proof of reliable quality.
On the front, we placed only our shop's quill pen logo discreetly without any letters so as not to distract from the beauty of the Urushi cordovan.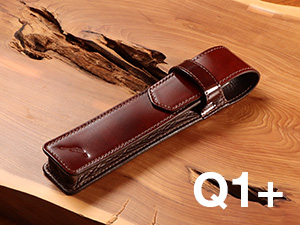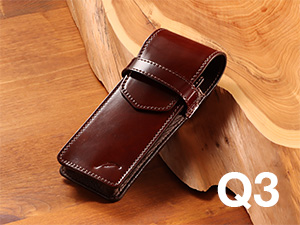 Size compatibility with pens
The Q1+ is specially designed for Namiki Emperor size, which has a No. 50 nib. It also fits Namiki Aya (No. 30 nib).
It can be used for Pilot's Custom Urushi (No. 30 nib), although there is some room to spare.
The Q3 accommodates up to Pelikan M1000 and Montblanc 149 sizes. However, if all three are the maximum size, they will not fit, so I recommend mixing one or two pens smaller than those.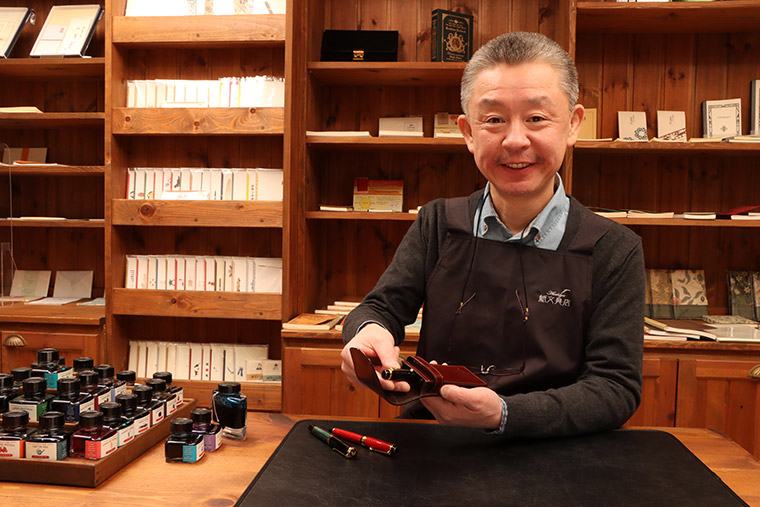 Special thanks to PAIR SLOPE, Kihachi-kobo, and you!
Thank you very much for reading this long page to the end. I wanted to fully convey the goodness of this product, which cannot be expressed by images alone, the story behind it, and the enthusiasm and love of the people involved in its creation.
And I would like to express my sincere gratitude to PAIR SLOPE and Kihachi-kobo for making this excellent pen case possible.
Below are links to both companies' websites. I hope you will explore the deep world of leather and Urushi.