LIFE Noble Notebook
This notebook is using LIFE's original
paper "LIFE-Writing-Paper-Cream".
Life-writing-paper is a very high
quality paper.
Almost of inks never bleeding
and penetrating to the back
side of the paper.
The surface is moderately smooth,
can write comfortably
in every fountain pen nib.



Made in Japan

Click to enlarge pictures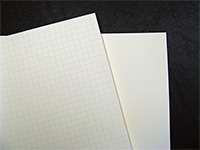 LIFE-Writing-Paper-Cream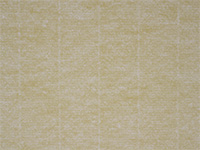 Beautiful laid pattern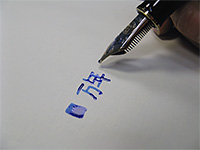 High acceptability to large flow
LIFE-writing-paper has superior performance for fountain pen writing because it is original design of LIFE Co., Ltd.
LIFE Co., Ltd. was established in Japan in 1946. Since then, came particular about good quality than the inexpensiveness of price.
General way of producing stationery is using a off-the-shelf paper that paper manufacturers made.
However, in recent years, the mainstream of production at paper manufacturers became to the paper suitable for printing than the suitable for handwriting. Base paper suitable for handwritten in fountain pen has become a thing of the past rapidly.
Against this background, LIFE has developed an original paper that specializes in writing comfort and affinity with the fountain pen ink, for fountain pen users. It is this LIFE-Writing-Paper.
There is a white and cream color in LIFE-Writing-Paper, product group of Noble note is using the cream.
Noble Note is the notebook made of paper that was born to handwrite.
LIFE Noble Note and Cover video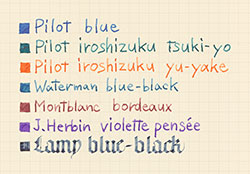 Front Side of Writing Sample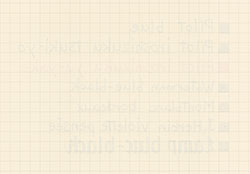 Back Side of Writing Sample
Video describing details of Noble Notebook,
Memo pad, and Cover.
The photo on the right is a sample of writing.
Place the cursor to enlarge.
When ordering, please copy the product name and paste to the Order Sheet.
(Opens in a new tab)
A4 Notebook
Size: A4 (297x210mm) Dimensions: 297x210x12mm
Number of Pages: 200 (100sheets)
Page Layout: 5mm Squared ⁄ 8mm Ruled ⁄ Plain
Paper Weight: 81.4g ⁄ m² Paper Color: Cream
Eco credentials: Elemental Chlorine Free (ECF), Acid-Free
Currency & Shipping Calculator

(Item weight: 590g)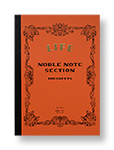 5mm
Squared
LIFE Noble Note A4

[ 5mm Squared ]




item number:

N31
Price: 1500 JPY
LIFE Noble Note A4 [ 5mm Squared ] [N31] 1500 JPY -- Qty: 1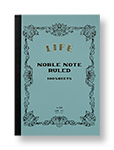 8mm
Ruled
LIFE Noble Note A4

[ 8mm Ruled ]




item number:

N37
Price: 1500 JPY
LIFE Noble Note A4 [ 8mm Ruled ] [N37] 1500 JPY -- Qty: 1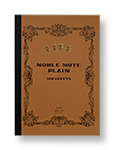 Plain
LIFE Noble Note A4

[ Plain ]




item number:

N34
Price: 1400 JPY
LIFE Noble Note A4 [ Plain ] [N34] 1400 JPY -- Qty: 1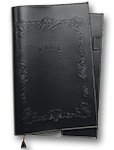 LIFE Noble Note Cover A4

[ Black ]

item number:

NC1

Material: Synthetic Leather
Item weight: 190g
Price: 3300 JPY
LIFE Noble Note Cover A4 [ Black ] [NC1] 3300 JPY -- Qty: 1
B5 Notebook
Size: B5 (257x182mm) Dimensions: 257x182x12mm
Number of Pages: 200 (100sheets)
Page Layout: 5mm Squared ⁄ 8mm Ruled ⁄ Plain
Paper Weight: 81.4g ⁄ m² Paper Color: Cream
Eco credentials: Elemental Chlorine Free (ECF), Acid-Free
Currency & Shipping Calculator

(Item weight: 440g)
Order Sheet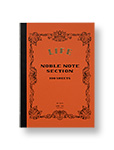 5mm
Squared
LIFE Noble Note B5

[ 5mm Squared ]




item number:

N32
Price: 1200 JPY
LIFE Noble Note B5 [ 5mm Squared ] [N32] 1200 JPY -- Qty: 1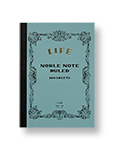 8mm
Ruled
LIFE Noble Note B5

[ 8mm Ruled ]




item number:

N38
Price: 1200 JPY
LIFE Noble Note B5 [ 8mm Ruled ] [N38] 1200 JPY -- Qty: 1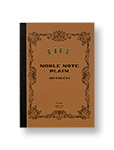 Plain
LIFE Noble Note B5

[ Plain ]




item number:

N35
Price: 1100 JPY
LIFE Noble Note B5 [ Plain ] [N35] 1100 JPY -- Qty: 1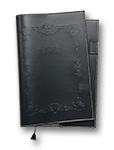 LIFE Noble Note Cover B5

[ Black ]

item number:

NC3

Material: Synthetic Leather
Item weight: 160g
A5 Notebook
Size: A5 (210x148mm) Dimensions: 210x148x12mm
Number of Pages: 200 (100sheets)
Page Layout: 5mm Squared ⁄ 8mm Ruled ⁄ Plain
Paper Weight: 81.4g ⁄ m² Paper Color: Cream
Eco credentials: Elemental Chlorine Free (ECF), Acid-Free
Currency & Shipping Calculator

(Item weight: 300g)
Order Sheet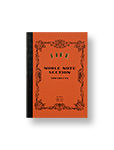 5mm
Squared
LIFE Noble Note A5

[ 5mm Squared ]




item number:

N33
Price: 900 JPY
LIFE Noble Note A5 [ 5mm Squared ] [N33] 900 JPY -- Qty: 1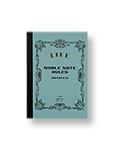 8mm
Ruled
LIFE Noble Note A5

[ 8mm Ruled ]




item number:

N39
Price: 900 JPY
LIFE Noble Note A5 [ 8mm Ruled ] [N39] 900 JPY -- Qty: 1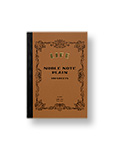 Plain
LIFE Noble Note A5

[ Plain ]




item number:

N36
Price: 800 JPY
LIFE Noble Note A5 [ Plain ] [N36] 800 JPY -- Qty: 1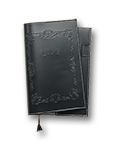 LIFE Noble Note Cover A5

[ Black ]

item number:

NC5

Material: Synthetic Leather
Item weight: 110g
Price: 2200 JPY
LIFE Noble Note Cover A5 [ Black ] [NC5] 2200 JPY -- Qty: 1
B6 Notebook
Size: B6 (182x128mm) Dimensions: 182x128x12mm
Number of Pages: 200 (100sheets)
Page Layout: 5mm Squared ⁄ 8mm Ruled ⁄ Plain
Paper Weight: 81.4g ⁄ m² Paper Color: Cream
Eco credentials: Elemental Chlorine Free (ECF), Acid-Free
Currency & Shipping Calculator

(Item weight: 220g)
Order Sheet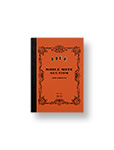 5mm
Squared
LIFE Noble Note B6

[ 5mm Squared ]




item number:

N28
Price: 800 JPY
LIFE Noble Note B6 [ 5mm Squared ] [N28] 800 JPY -- Qty: 1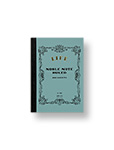 8mm
Ruled
LIFE Noble Note B6

[ 8mm Ruled ]




item number:

N30
Price: 800 JPY
LIFE Noble Note B6 [ 8mm Ruled ] [N30] 800 JPY -- Qty: 1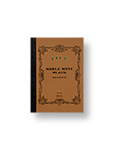 Plain
LIFE Noble Note B6

[ Plain ]




item number:

N29
Price: 700 JPY
LIFE Noble Note B6 [ Plain ] [N29] 700 JPY -- Qty: 1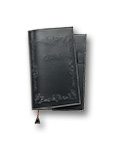 LIFE Noble Note Cover B6

[ Black ]

item number:

NC7

Material: Synthetic Leather
Item weight: 100g
Price: 2000 JPY
LIFE Noble Note Cover B6 [ Black ] [NC7] 2000 JPY -- Qty: 1
A4 Writing Paper
B7 Memo Pad

Dimensions(with cover): 135x100x16mm
Size(refill): B7 (128x91x12mm)
Number of Sheets: 100 sheets
Page Layout: 5mm Squared ⁄ 8mm Ruled ⁄ Plain
Paper Weight: 81.4g ⁄ m² Paper Color: Cream
Eco credentials: Elemental Chlorine Free (ECF), Acid-Free
Currency & Shipping Calculator

(Item weight: 160g)
Order Sheet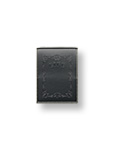 5mm
Squared
LIFE Noble Memo
with Cover (Black)

[ 5mm Squared ]




item number:

N50
Price: 1000 JPY
LIFE Noble Memo+Cover(Black)[5mm Squared][N50] 1000 JPY -- Qty: 1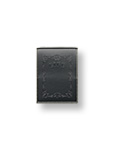 8mm
Ruled
LIFE Noble Memo
with Cover (Black)

[ 8mm Ruled ]




item number:

N52
Price: 1000 JPY
LIFE Noble Memo+Cover(Black)[8mm Ruled][N52] 1000 JPY -- Qty: 1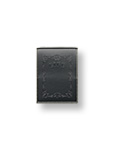 Plain
LIFE Noble Memo
with Cover (Black)

[ Plain ]




item number:

N51
Price: 1000 JPY
LIFE Noble Memo+Cover(Black)[Plain][N51] 1000 JPY -- Qty: 1
---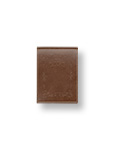 5mm
Squared
LIFE Noble Memo
with Cover (Brown)

[ 5mm Squared ]




item number:

N53
Price: 1000 JPY
LIFE Noble Memo+Cover(Brown)[5mm Squared][N53] 1000 JPY -- Qty: 1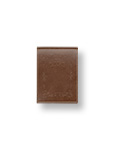 8mm
Ruled
LIFE Noble Memo
with Cover (Brown)

[ 8mm Ruled ]




item number:

N55
Price: 1000 JPY
LIFE Noble Memo+Cover(Brown)[8mm Ruled][N55] 1000 JPY -- Qty: 1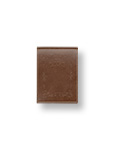 Plain
LIFE Noble Memo
with Cover (Brown)

[ Plain ]




item number:

N54
Price: 1000 JPY
LIFE Noble Memo+Cover(Brown)[Plain][N54] 1000 JPY -- Qty: 1
---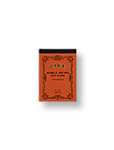 5mm
Squared
LIFE Noble Memo
Refill

[ 5mm Squared ]




item number:

N40

Item weight: 120g
Price: 300 JPY
LIFE Noble Memo Refill [5mm Squared] [N40] 300 JPY -- Qty: 1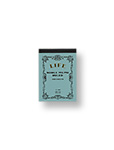 8mm
Ruled
LIFE Noble Memo
Refill

[ 8mm Ruled ]




item number:

N42

Item weight: 120g
Price: 300 JPY
LIFE Noble Memo Refill [8mm Ruled] [N42] 300 JPY -- Qty: 1